Lines On Human Rights Day 2021: Human Rights Day is celebrated every year on 10 December. The day marks the date when the United Nations General Assembly adopted the Universal Declaration of Human Rights. Read this to share some inspirational quotes, messages, WhatsApp and Facebook status of Human Rights Day.
Best Lines on Human Rights Day for Students and Children in English ਅੰਗਰੇਜ਼ੀ ਵਿੱਚ ਵਿਦਿਆਰਥੀਆਂ ਅਤੇ ਬੱਚਿਆਂ ਲਈ ਮਨੁੱਖੀ ਅਧਿਕਾਰ ਦਿਵਸ 'ਤੇ ਵਧੀਆ ਲਾਈਨਾਂ
We all are humans and that makes us all equal. Let us not discriminate and make this life difficult for everyone. Happy Human Rights Day.
It is strange to know that we consider ourselves superior to others because of our gender or our color or our religion. Let us stop that. Warm wishes on Human Rights Day.
If we all are going to stand together to fight against the discriminations and fight for equal rights for humans, we will have a better place to live. Happy Human Rights Day.
Let us join our hands as we celebrate Human Rights Day to remind each one of us that all humans deserve equal rights. Happy Human Rights Day.
The onus of making this world a better place to live lies on our shoulders and Human Rights Day is a reminder to make it happen. Warm wishes to everyone.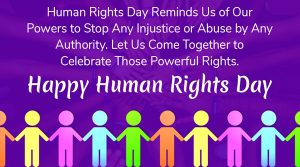 Never let our prejudices and biases come in between the rights the humans deserve. Warm wishes on Human Rights Day to all.
The occasion of Human Rights Day reminds us all that we all are born with equal rights and we must respect it. Warm wishes on this special day.
By giving equal rights to all humans we can certainly make this world a much happier and more peaceful place to live in. Happy Human Rights Day.
We have no rights to discriminate between people because of their sex, color, religion or creed. Warm greetings on Human Rights Day to all.
ਇਹ ਵੀ ਪੜ੍ਹੋ : Merry Christmas 2021 Wishes In Punjabi
Connect With Us:-  Twitter Facebook